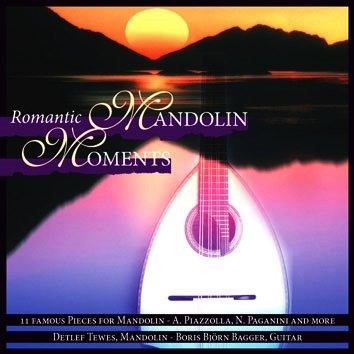 Werke von: Astor Piazzolla (Histoire de Tango), Niccolo Paganini u.a.
Eine Neufassung des Titels "My Way" (berühmt geworden durch die Interpretation von Frank Sinatra)
Detlef Tewes - Mandoline
Boris Björn Bagger - Gitarre
Programm der CD hier / Tracklist of CD here
Als Duo ernten Detlef Tewes und Boris Björn Bagger immer wieder höchstes Lob bei Publikum und Presse. Die Kritik schrieb: "Wer diese beiden Virtuosen noch nicht gehört hat, macht sich keine Vorstellung davon, welche intensiven Eindrücke ein so unscheinbares Instrument wie die Mandoline hinterlassen kann, besonders wenn sie von einem der größten lebenden Mandolisten gespielt und von einem der besten Konzertgitarristen der Welt so harmonisch ergänzt wird."
Solinger Tagblatt, vollständige Kritik hier
As a duo, Detlef Tewes and Boris Björn Bagger have earned the acclaim of audiences and the press time and time again. One reviewer wrote, "Whoever has not yet heard these two virtuosos cannot imagine that such an unassuming instrument as the mandolin can leave behind such intense impressions, especially when it is played by one of the greatest living mandolin virtuosos, together with one of the best concert guitarists in the world."
Solinger Tagblatt, complete review here
Mehr Presseartikel hier / more reviews here
Das Cover als PDF hier klicken / Cover as PDF click here
Weitere Infos zur CD hier / more Information about CD here (Booklet Text)